Stephanopoulos Grills Kerry: Is There Any Indication Putin Is Listening to Obama At All?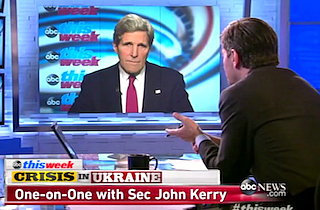 On This Week With George Stephanopoulos Sunday morning, the titular host pressed Secretary of State John Kerry for specifics as to the United States' planned responses to Russia's invasion of the Crimean peninsula, and whether President Barack Obama had the ability to execute repercussions against Russia. "All those violations," Stephanopoulos said, "what's the penalty for what Russia's already done?"
"The United States is currently considering all options," Kerry said. "This really puts into question Russia's role in the world…They are inviting the possibility of very serious repercussions, on trade, on investment, on asset freeze, on visa bans, on the potential of actions by the global community."
Kerry called upon Congress to pass economic aid for Ukraine, and Stephanopoulos asked if the US was considering economic sanctions against Russia, in addition to Ukrainian aid. "It may well come that we will have to engage in that kind of activity," Kerry said.
RELATED: Sen. Graham: When Obama Threatens Dictators, 'Everybody's Eyes Roll'
Kerry added that Russia was jeopardizing its membership in the G8 and G20. "You cannot behave this way in the 21st Century, and sit around the table with the normal entities and pretend that life is as usual," he said. "But we believe that there is an alternative. We call on Russia to engage with the government of Ukraine. We are prepared to work very closely with Russia in order to address the very legitimate concerns that exist."
"Do you have any indication at all that President Putin is taking heed of what President Obama is saying?" Stephanopoulos asked, in reference to the fruitless phone call yesterday between Obama and Putin.
"Well, they just had the conservation yesterday," Kerry said. "We're going to continue to engage diplomatically. This is a time for diplomacy, in order to steer this away from an increase of tension and the level of the crisis."
Watch the video below, via ABC News:
[Image via screengrab]
——
>> Follow Evan McMurry (@evanmcmurry) on Twitter
Have a tip we should know? [email protected]