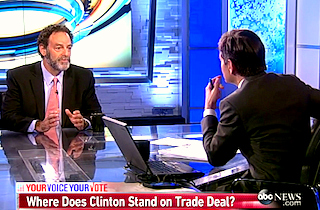 This Week host George Stephanopoulos pressed Hillary Clinton senior campaign advisor Joel Benenson Sunday morning on Clinton's non-position on the upcoming Trans Pacific Partnership trade deal.
The complicated trade deal, which would affect about 40% of the world's economy, suffered a massive setback in the House or Representatives this week, as Democrats rejected a major provision of the bill. Clinton has not indicated her position on it, which potentially gave congressional Democrats cover to revolt from the president.
However, it's hard to say who's being murkier here, as the Obama administration has not released details about the final trade package before asking Congress for fast-track authority to approve it, something criticized by more progressive members of the Democratic Party like Senator Elizabeth Warren (D-MA).
"Secretary Clinton has been very clear that what matters is what's in the final deal," Benenson said. "And there is no final trade passage. There's a lot of congressional jockeying over things like TAA and TPP, acronyms that no voter understands."
"It's a pretty simple issue," Stephanopoulos replied. "Whether or not the president should have the authority to negotiate it."
Benenson countered that the issue was not simple, as it involved tradeoffs over everything from American wages to national security, and that it would be impossible to judge those tradeoffs until a deal had been presented. Stephanopoulos asked whether Clinton at least favored the fast-track authority provision, but Benenson deflected.
"She believes what the deal has at the end of the day is what will matter o the American people and to working people," Benenson said. "All the rest of this is Washington inside baseball."
Watch the clip below, via ABC News:
.@GStephanopoulos: Does [HRC] believe POTUS should have the authority, the fast track authority to negotiate now?
https://t.co/ovUGibDtUo

— This Week (@ThisWeekABC) June 14, 2015
[Image via screengrab]
——
>> Follow Evan McMurry (@evanmcmurry) on Twitter
Have a tip we should know? tips@mediaite.com