Stephanopoulos to De Blasio: 'Are You Really Worried Your Son's at Risk' from NYPD?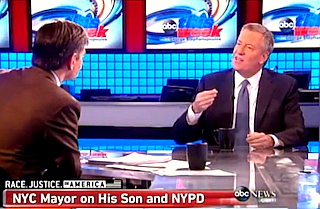 "Are you really worried that your son is at risk from your own police department?" was the question This Week host George Stephanopoulos posed to Gotham Mayor Bill de Blasio Sunday morning, after de Blasio's comments following the Eric Garner grand jury decision got him in hot water with the police union.
"Look, I want to say it the right way," de Blasio said on ABC. "What parents have done for decades who have children of color, especially young men of color, is train them to be very careful when they have an encounter with a police officer. It's different for a white child. That's just the reality of this country. With Dante very early on we said, 'Look, if a police officer stops you, do everything he tells you to do. Don't move suddenly, don't reach for your cell phone.' Because we knew, sadly, there was a greater chance it might be misinterpreted if he's a young man of color."
"What we're striving toward is a day when every child can be told equally that not only are the police there to protect you, but they're going to assume that the young person is an innocent, law-abiding person. That's just not always the reality today."
De Blasio also responded to criticism from former Mayor Rudy Giuliani, that he was stoking racial tensions and ignoring the reality of crime in minority communities.
"I think he fundamentally misunderstands reality," de Blasio said. "We're trying to bring police and community together. There is a rift here that has to be overcome. You cannot look at an incident in Missouri and Cleveland Ohio and New York City, all happening within weeks, and act like there's not a problem. There's something fundamental we have to get at here. And it's not going to help by accusing either the community or police of having bad intentions."
Watch the clip below, via ABC News:

More ABC US news | ABC World News
[Image via screengrab]
——
>> Follow Evan McMurry (@evanmcmurry) on Twitter
Have a tip we should know? tips@mediaite.com