Stephanopoulos To Gingrich: 'Really No Way For You To Get Enough Delegates Before The Convention'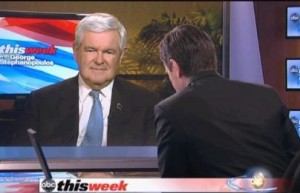 Mitt Romney is currently leading the Republican delegate count with 180 to his name, while Rick Santorum has only half of that and Newt Gingrich only holds 29 delegates, just slightly more than Ron Paul. Gingrich appeared on This Week earlier today, and George Stephanopoulos told Gingrich that at this point in the race, it is almost mathematically impossible for him to amass enough delegates by the convention to have an uncontested race, and any sort of surge on Gingrich's part will lead to a brokered convention.
RELATED: Sarah Palin Defends Gingrich: Establishment Fears Him Because He Leads 'Rage Against The Machine'
Stephanopoulos first pointed out how a former Gingrich supporter and state campaign co-chair in Tennessee ended up switching to Santorum last week because for conservatives looking to take down Romney before the general election, Santorum appears to have a better chance of winning. Gingrich touted his victories in the all-important Tennessee caucus vote and the National Business Council survey. He went after Santorum for his union ties, opposition to previous right-to-work legislation, and previous support of minimum wage increases.
Stephanopoulos explained to Gingrich that the math might not necessarily work out in his favor in the end.
"There's really no way for you to get enough delegates before the convention. So this, as you said, could be a long fight if it's going to be successful for you. We've seen this happen in the past. 1952 for the Democrats, 1976 for the Republicans, 1980 for the Democrats, it means that party loses in the general election. Are you worried that this kind of long fight is going to put your nominee at risk?"
RELATED: Chuck Todd Compares Newt Gingrich To The Terminator: 'He Just Sort Of Keeps Showing Up'
Gingrich first responded by saying he would love to "swap history credentials" with Stephanopoulos some time, before citing the long, drawn-out fight in 2008 between Barack Obama and Hillary Clinton that ultimately gave Obama a strong advantage leading into the general election against John McCain, who became his party's presumptive nominee very early on. Gingrich expressed confidence that he will ultimately claim the nomination no matter how contentious the race may get as a result.
Watch the video below, courtesy of ABC:
Have a tip we should know? tips@mediaite.com
Josh Feldman - Senior Editor