George Stephanopoulos To Rick Perry: Did You Fail To Understand The Preparation It Takes To Run For President?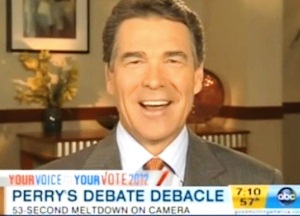 Rick Perry appeared on Good Morning America in full damage control mode following his epic gaffe at yesterday's debate. Anchor George Stephanopoulos grilled the Texas Governor about his botched answer, saying he looked like he was in pain. "I was thinking about the number of federal agencies that were coming to mind but the one that I wanted to say, the Department of Energy, would not come out!" Perry exclaimed. "In all seriousness, that is one of the problems we have in this country, that we have so many agencies in government out there, that are impacting people's lives. Everybody makes mistakes!"
Stephanopoulos noted that was one of the standard questions that everyone prepares for in a debate. "You have a host of Republican operatives out overnight saying this is a death blow to your campaign," Stephanopoulos observed.
"Well, the bottom line is we're going to get up every day and go talk to the American people. and they know that there's not a perfect candidate that's been made yet and I'm kind of proof positive of it every day — that people make mistakes when they debate," Perry answered. "People make mistakes when they make statements," Perry explained. "If they're looking for the best debater or the smoothest politician, I might not be it, but if they're looking for someone that is a principled, fiscal conservative, they can count on me every day."
Stephanopoulos's next question cut to the quick of Perry's biggest liability. "Did you fail to understand what kind of preparation it would take?"
"Absolutely, from the standpoint of presidency, it is a long slog and a hard slog," Perry conceded. "But absolutely — we gave complete and absolute thought to that. but again, the perfect candidate's never been created yet. and there's going to be people that make mistakes. and i'll make mine — share of 'em."
Watch Perry's interview below via ABC:

Have a tip we should know? tips@mediaite.com