Stephen A. Smith Apologizes for Domestic Abuse Comments: 'Most Egregious Error of My Career'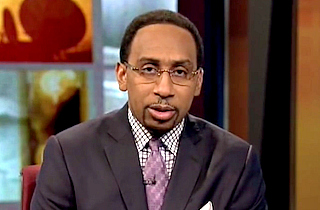 First Take cohost Stephen Smith apologized at the top of Monday morning's show for his comments about domestic abuse last Friday, in which he said that women played a role in provoking men into assaulting them. Smith called the comments the "most egregious error of my career."
"My words came across it is somehow a woman's fault," Smith said. "This is not my intent. It was not what I was trying to say. Yet the failure to clearly articulate something different lies squarely on my shoulders. To say what I said was foolish is an understatement. To say I was wrong is obvious. To apologize, to say I'm sorry doesn't do the proper justice. But I do sincerely apologize."
The comments came during a discussion about the NFL's paltry two-game suspension of Baltimore Ravens running back Ray Rice for allegedly knocking out his girlfriend last February; Smith later doubled-down on them on Twitter.
On Monday he struck a different tone, saying he had long spoken out against domestic abuse, and alluding to having dealt with it in his own family.
"Particularly to the victims of domestic abuse and to my female family members and loved ones I've disappointed, and who know I know better, you all deserved a better professional and quite frankly a very man sitting on this set in this very chair," he said. "My heartfelt apologies to each and every single one of you."
However, Smith did say he "did an incredibly poor job of asserting my point of view this past Friday," leaving unresolved what exactly the point was that he had been trying to make in the first place.
Watch the clip below, via ESPN2:
[Image via screengrab]
——
>> Follow Evan McMurry (@evanmcmurry) on Twitter
Have a tip we should know? tips@mediaite.com