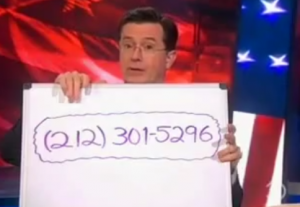 On Thursday, Stephen Colbert decided to take a page out of Eric Bolling's playbook, and put his phone number on display for the world to see. Colbert began by showing a clip from Thursday's Fox & Friends, in which Bolling ("He is the lead fivesman of Fox News' five o'clock talk show, The Five," Colbert explained, "which is like The View, for people who think The View's panelists are too well-informed.") brought on a manila envelope with a secret energy plan, then held up a dry erase board with his phone number on it.
"What a brilliant plan to get a phone call from the President!" Colbert said, pulling out several manila envelopes of his own from beneath his desk, including plans to eliminate the debt, invading and defeating Iran in three days, and…some poetry from college.
"But in the meantime, I have to know what Bolling's plan is," Colbert continued. "But he said only the President could call. Now of course, he didn't specify President of what…"
Colbert, of course, is the President of a Super PAC, and decided to just pick up the phone and call. After a few rings, Colbert reached the "Gasline" voicemail, to which he left a voicemail, pretending to be Barack Obama, urging Bolling to stitch his oil plans on to an American flag, and then burn it. "And then I'll inhale the vapors and know what your plan is."
The segment ended with Colbert putting a number of his own on a dry-erase board, urging Bolling — and only Bolling — to call him.
Watch a clip of The Colbert Report below, courtesy of Comedy Central:
Have a tip we should know? tips@mediaite.com