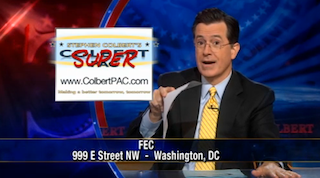 With each new wrinkle in the story of ColbertPAC, Stephen Colbert's Political Action Committee, The Colbert Report has been demonstrating the absolute silliness of campaign finance regulations. In his bid to "affect the 2012 election," Colbert is now calling upon the help of his fans. And, no, he's not just asking for email addresses now. Colbert is heading to the Federal Election Commission offices today to apply for a media exemption and he's asking the Colbert Nation to join him.
Here's the story so far. First, Colbert was told he the PAC ran up against corporate "in-kind donation" rules by discussing it on his Viacom-owned show. Fortunately his "personal lawyer" (former FEC Chairman Trevor Potter) helped show him a loophole where all he needed to do was change it to a SuperPAC by writing the word "Super" on the cover letter. Then, this week, he was told by Viacom lawyers that he could no longer legally speak about his SuperPAC on air. Potter came to the rescue again by telling him about the "media exemption" that the many PAC-holders on Fox News have that claims they are just "reporting the news." So, once Colbert gets the exemption, he should be able to talk about and support as many candidates and issues as he wants.
Last night, Colbert announced to the audience that he would be heading to the FEC office in Washington, D.C. to apply for the exemption and that he wanted them to join. He even added the extra encouragement by pointing out that today is his birthday! And, for the past few hours, he's been promoting the event with the kind of Twitter-blitz not seen since Sen. Jon Kyl started speaking in non-facts.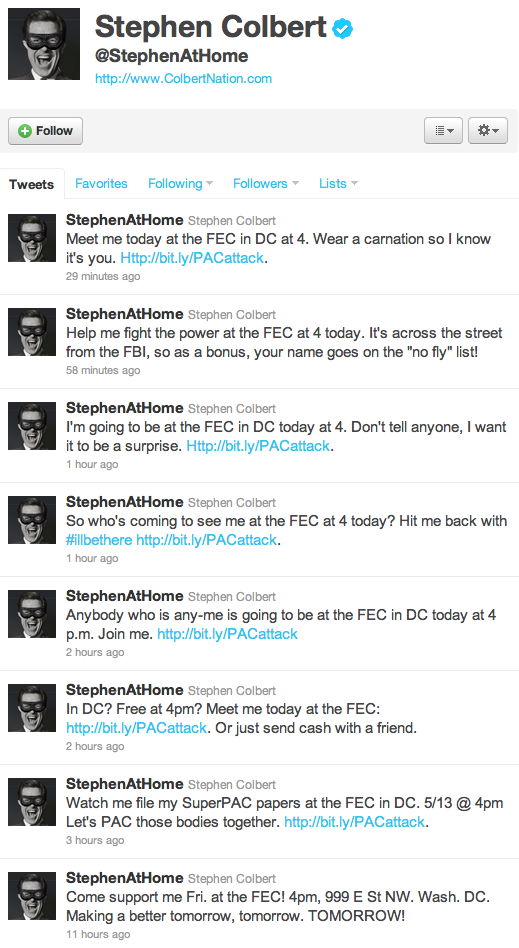 So, will people be showing up today? I'd assume so. I mean, it's not like Colbert is inexperienced when it comes to getting people to go to the nation's capital…
Watch last night's announcement from Comedy Central below:
Have a tip we should know? tips@mediaite.com