Stephen Colbert Performs His Version Of Rebecca Black's 'Friday' For Jimmy Fallon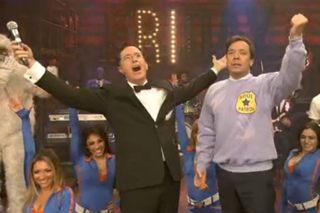 You can make fun of Rebecca Black all you'd like, but who was performing your music when you were 13? To the list of people now culturally bound to her hit (?) single "Friday" we can now add Stephen Colbert and Jimmy Fallon, who, along with The Roots, the Knicks City Dancers, some guy in a Bigfoot outfit, and American Idol winner Taylor Hicks for some reason, performed the most over-the-top rendition of the tune yet.
While reinterpreting "Friday"– a song that, should the Mayans be right about the world ending in 2012, will define pre-apocalyptic humanity forever– is enough of an artistic statement in itself, there was some method to the madness. The performance was the culmination of several weeks of fundraising on the part of both hosts, with Fallon getting Colbert to promise that, should his fans raise $26,000 for Donor's Choose, he would perform the song. The viewers coming through, Colbert held up his end of the promise spectacularly. Adding lights, confetti, balloons, dancers, and terrible props to come up with something vaguely resembling the SNL sketch "What Up With That?", they even significantly improve upon the creepy thirty-something-year-old rapper cameo with just a car door and what looks like a wagon. Colbert and Fallon managed to take what could arguably be the worst song of all time and threw the kitchen sink at it, coming up with something like the aural equivalent of a Jackson Pollack painting.
Today is Saturday (and Sunday comes afterwards), but you can still indulge your love/hate of the song via NBC below:

Have a tip we should know? tips@mediaite.com