Stephen Colbert Reduces Sarah Palin To "Media Troll" And "Self-Promoting Ignoramus"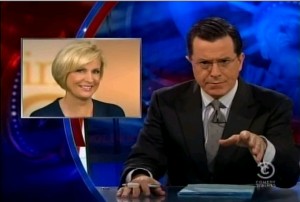 Its been said a lot, but every now and again it bears repeating. Stephen Colbert is a genius. Yes, his consistent amplification of absurd news items to a level of hilarious observation is a consistent part of his routine, but the fake dimwittedness very often results in a much smarter meta-commentary than a straight report could ever provide. Take for example last night's "pep talk" to Morning Joe's Mika Brzezinski , who yesterday expressed frustration in having to discuss Sarah Palin's interview with Sean Hannity.
Some background: Yesterday Ms. Brzezinski seemed to take the position that, just because Sarah Palin made some comments somewhere, it wasn't necessarily worth reporting. In advance to his pep talk, Colbert runs a clip of the clearly frustrated and disinterested Morning Joe co-host, before turning to camera to encourage Mika:
I know you think this story has no purpose other than keeping Sarah Palin's name in the headlines for another news cycle. I know you think she has nothing to offer the national dialog and that her speeches are just coded talking points mixed in with words picked up at random from a Thesaurus.

I know you think Sarah Palin is at best a self-promoting ignoramus and at worst a shameless media troll who will abuse any platform to deliver dog-whistle encouragement to a far right base, that may include possible insurrectionists.

I know you think her reality show was pathetically unstatesmanlike and at the same time I know you believe it represents the pinnacle of her potential. And that her transparent desperation to be a celebrity so completely eclipsed her interest in public service so long ago that there would be more journalistic integrity on reporting on of the lesser Kardashians' ass implants.

I know, i know that when you arrive at the office each day you say a silent prayer that maybe, just maybe, Sarah Palin will at long last just shut up for just ten f*cking minutes. I know because I can see it in your eyes.

Well, guess what, Mika that's the gig. And it's only January of 2011, kiddo. And you have a minimum of two more years of this ahead of you. You want to stay in this game? You dig deep. You find another gear. You show up to work every day and get your hear and makeup done. You slap on a smile, get out there on TV and repeat what Sarah Palin said on Hannity last night right into the lens.

I have faith in you, kid. You can do it. See you in New Hampshire. I'll buy.
After watching the following clip, there is no question how Mr. Colbert truly feels about Ms. Palin, though the method by which he reduces the former Alaskan Governor turned Reality TV star to a "media troll" is so meta and smart, one doesn't feel that Colbert was being spiteful or mean.
Watch the segment for yourself below, courtesy of Comedy Central:
Have a tip we should know? tips@mediaite.com