Stephen Colbert Ridicules Fox and Friends For Promoting Walgreens' Pap Smears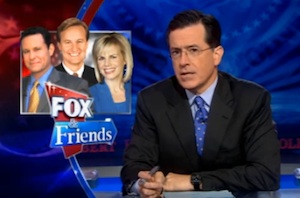 During last week's threat of a government shut down, a secondary debate arose around the funding and overall utility of Planned Parenthood. GOP lawmaker's had reportedly attached riders to the budget bill that effectively called for its de-funding which in turn led to lots of misinformation, misunderstanding or just false rhetoric to be spewed in and around the Capital. Last night, Comedy Central funny man Stephen Colbert "celebrated" some of the falsities, training his sites on Sen. Jon Kyl and Brian Kilmeade, co-host of Fox and Friends.
Colbert opens with rather stunning footage of Sen. Kyl falsely proclaiming on the Senate floor that 90% of Planned Parenthood goes towards the cost of performing actual abortions (when the real figure is 3%.) But impossibly, that's not the most outlandish comment made by Kyl (nor is office) who clarified the comment in a statement to CNN that proclaimed that Kyl's comment "was not intended to be a factual statement."
The later half of the segment below focuses on Fox and Friends discussion of Planned Parenthood, specifically Kilmeade's suggestion that many of the women health care services provided by Planned Parenthood (breast exams and pap spears for example) can easily be procured at your local Walgreen's (maybe the worst product placement ever?) The bit ended with Colbert channeling Harvey Kormon in trying to conceal his own laughter while discussing his own Walgreen's brand colonoscopy. Comedy folks call it "breaking" and it always makes the bit seem funnier than planned.
Watch the clip below, courtesy of Comedy Central:
Have a tip we should know? [email protected]