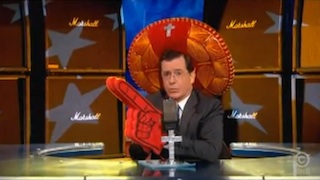 Sometimes it's hard to be in the news game when you know your rivals have such better sources. By this, I'm referring, of course, to Pat Robertson's ability to speak to God Himself. The Lord recently talked to Robertson and told him who the next president will be and also that America is in line for a huge catastrophe because we were foolish enough to elect Barack Obama.
Lucky guy. The most God's ever said to Mediaite is from that one burning bush that told us to stop doing Casey Anthony posts or he'd kill our first born son. Presumably Geekosystem.
Anyway, whereas some newsmen would become consumed by jealousy in the face of Robertson's sweet Jehovah hookup, Stephen Colbert was ready to help the cause, praying for His forgiveness for electing that stupid, Socialist jerk face.
RELATED: God Told Pat Robertson Who The Next President Will Be
Not only did Colbert pray for our protection, he went all the way, bumping up his regular "Prayer Hat" to a sparkly "Somprayero." Now that screams "humble before the face of the Lord."
Perhaps the best moment of the segment, however, came as Colbert cycled through the protective measures for different calamities Robertson mentioned. It got me thinking, is there anything more powerful than a writer on a successful TV show? These guys just say "Get me a chicken!" in the morning and, within a few hours, a chicken's there. That is real power. Hell, I'm starting to think we should all start worshipping TV writers instead of God, am I right?
…oh, now I did it. Here comes the talking bush again.
Watch the clip from Comedy Central below:
Have a tip we should know? tips@mediaite.com