Stephen Colbert Takes On George Stephanopoulos During 'Heated' This Week Interview
Colbert Takes On George Stephanopoulos During 'Heated'
This Week
Interview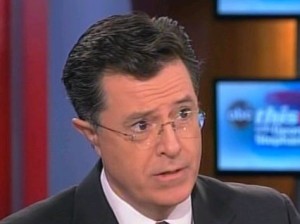 Stephen Colbert isn't even a candidate for the presidency yet, and he's already attracting more attention than actual candidates. The comedian has been riding high ever since announcing his intentions last Thursday to form an exploratory committee to run for the presidency in South Carolina, and on the heels of a new ad released by the Jon Stewart-helmed Definitely Not Coordinating With Stephen Colbert Super PAC released late last night, Colbert (in character) sat down with George Stephanopoulos to talk about his chances of actually getting on the ballot and the influence of Super PACs on the political process.
RELATED: Stephen Colbert's SuperPAC Releases Its First Campaign Video: Episode IV: A New Hope
Stephanopoulos began by bringing up the biggest issue Colbert will have getting on the ballot in South Carolina. Namely, getting on the ballot in South Carolina. Since write-ins are not allowed and the filing deadline was months ago, Colbert's chances of getting on the actual ballot are slim. But he joked that would not stop him, because if NASA could get on the moon and put cheese into the pizza crust, anything is truly possible. But he was definitely discouraged by the Republican party barring write-in campaigns, saying "that doesn't sound like freedom to me."
If his GOP candidacy falters, would Colbert consider a third-party run? Colbert didn't speculate that much, continuously reminding Stephanopoulos that he is still in the exploratory phase of his campaign. However, he didn't rule out the possibility that he may abandon his campaign if he sees a better candidate on the horizon, provided, of course, they kiss his ring.
Then the conversation switched to the organization formerly known as Colbert Super PAC, and Stephanopoulos played a segment of the advertisement being run by the PAC in South Carolina, attacking Mitt Romney for being a "serial killer" with respect to corporations. Colbert satirically distanced himself from the ad, reminding Stephanopoulous that Stewart was now running the PAC and candidates are not legally supposed to coordinate with Super PACs. And then, in a complete parody of Newt Gingrich, Colbert stated if information in the ad was inaccurate, it should be edited out for the sake of fairness. (Also, Colbert pointed out what a lot of us may have missed upon first viewing the ad: the narrator of the "serial killer" ad was John Lithgow, who famously played the "Trinity Killer" on Dexter. Coincidence?)
RELATED: Stephen Colbert Tempts OWS Protesters Into Selling Out With His SuperPAC Money
After fielding some questions from Facebook, Stephanopoulos reminded the Republican candidate that his former Super PAC is now being helmed by a man whom Roger Ailes claims is a hater of all things conservative. Colbert referred to Ailes as a friend, before agreeing with those sentiments and insisting that Jon Stewart being the new leader of the Super PAC would make it easier for him to disown anything the PAC does from now on.
Watch the full interview below, courtesy of ABC:
Have a tip we should know? tips@mediaite.com
Josh Feldman - Senior Editor