Stephen Colbert Talks Election, His Penchant For 'Playing Political Games' On Meet The Press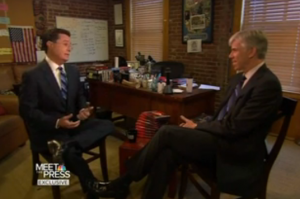 On this week's Meet the Press, David Gregory sat down with Stephen Colbert — both the man and the character. Colbert gave his assessment of the campaign, and also spoke a bit about his character and whether he has any political aspirations in the pipeline.
Asked who has the edge in the race, Colbert, in character, replied, "Romney, obviously."
"Did you see him the other night?" he asked. "That guy is on fire. He is on a rocket ride to plausible at this point!"
And the real Colbert? He's "pleased as a performer that Mitt Romney got his shit in a pile. Because I model conservative punditry — and if he's not someone I can follow, then I'm lost." But up until last Wednesday, he said, Romney was " just a walking, shambling mound of weakness. You know, even the people who liked him didn't seem to be behind him that strongly."
Gregory then turned away from politics to chat more about Colbert himself. Colbert said he thanks guests who come in for interviews with him because he knows it's "kind of a tough booking."
"You don't know necessarily what I'm going to say, or what I'm going to ask, because I'm an active idiot," he said.
"You are a performer, but you do also make a point," Gregory noted.
"I'm a satirist. All satirists make points," Colbert replied. "Satire is parody with a point."
He added that he cares about the news, but he's not a newsman nor a political figure. "I like playing political games," he said, pointing to his super PAC and presidential exploratory committee.
Asked about what he's exposed, Colbert pointed to his congressional testimony. "Congress is like eighth grade recess," he said. "They're so nasty to each other."
While Jon Stewart "deconstructs" the news, Colbert said what he does is different: "I falsely reconstruct the news."
Wary of the idea that he and Stewart are more effective at exposing hypocrisy and lies, Colbert only said that jokes make things "palatable." Comedy "just helps an idea go down."
Take a look, via NBC:

Have a tip we should know? tips@mediaite.com