Colbert Tears Into Steve Doocy: I'm Not 'Brown-Noser' Toting For GOP Establishment '…Unlike Some People'
Colbert Tears Into Steve Doocy: I'm Not Some Brown-Noser '...Unlike Some People'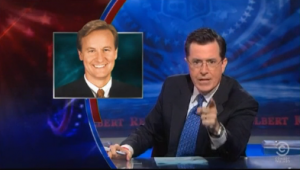 On Monday night, Colbert Report host Stephen Colbert took aim at Fox & Friend "chief friend" Steve Doocy over having egregiously misquoted President Barack Obama's "silver spoon" quote. If that story sounds familiar, it may because Mediaite's own Tommy Christopher tackled it yesterday afternoon.
RELATED: The Dooce Is Loose With The Truth: Steve Doocy Adds 'Unlike Some People' To Obama 'Silver Spoon' Quote
"Unlike some people," Doocy had said in his attempt to present the President's quote to guest Mitt Romney, "I wasn't born with a silver spoon in my mouth."
"'Unlike some people,'" Colbert repeated. "Oh gee, who could Obama possibly mean? We all know when you're talking about someone being born into privilege, it can only mean Mitt Romney. So pretty. And it is bound to backfire on the President because being born rich is Mitt Romney's greatest accomplishment."
Of course, President Obama had never said "unlike some people" in his original remark, saying instead that "somebody gave me an education; I wasn't born with a silver spoon in my mouth. Michelle wasn't. But somebody gave us a chance."
So then Doocy, Colbert explained, had merely been "practicing journalism plus" by embellishing the President's words. Colbert provided another example: "I don't give out handjobs at the bus station. …Unlike some people." Doocy's journalism plus proved so successful that his "unlike some people" addition was quoted verbatim in both the New York Post and the Washington Post in what Colbert referred to as "picking up a Dooce with your bare hands."
Colbert continued:
But just because the President's been saying it since 2009, it doesn't mean it's not about Mitt Romney. He's been running since 2005. In fact, Obama's been taking potshots at Mitt Romney all the way back to his 2008 campaign with its passive aggressive slogan "Yes we can… Unlike some people." So. Fact… fact. So excellent reporting, Steve Doocy. And I know good reporting; I am an independent newsman, not some smug, self-satisfied brown-noser toting for the Republican establishment.

Unlike some people.
Yeeeeeouch. Check it out, via Comedy Central:
Have a tip we should know? tips@mediaite.com