Colbert Thanks Huckabee For Teaching Nonbelievers What Christianity Is All About
Colbert Thanks Huckabee For Teaching Nonbelievers What Christianity Is All About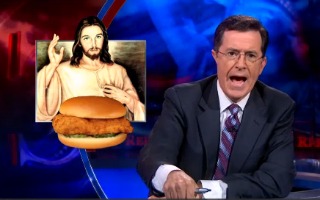 On Monday night, Comedy Central host Stephen Colbert looked back on the week that was — where chicken and homosexuality were concerned, at any rate. "It's like the Civil War, if you replace slavery with waffle fries," he said of the controversy, drawing attention to the various organizations Chick-fil-A had given money to before the company's CEO "came out of the tolerance closet" two weeks ago.
Then, "walking fried food museum" Mike Huckabee organized a Chick-fil-A Appreciation Day to support the company, a day that saw the chicken chain experiencing a boost in sales — it's a great way for a company to churn out money during these difficult economic times, Colbert pointed out, offering a couple of potential politically divisive slogans for other companies looking to make a buck.
Later on in the segment, Colbert, in solidarity, made the difficult and courageous decision to come out as straight. He then carefully explained how Huckabee's chicken mission so fully fits in to Jesus Christ's own mission and message, particularly for those who might not fully understand what Christianity is all about.
"As a practicing Christian in this modern, fallen world, it can be hard to explain why I still go to church," said Colbert. "That's why I want to say thank you, Mike Huckabee, for cementing in the minds of nonbelievers just what my religion stands for: Jesus, the only Son of God, gave His life to redeem mankind by suffering torture and death, then rose from the dead in forgiveness of our sins, ascending to heaven and is seated for eternity at the right hand of the Father in fulfillment of the scriptures. …You know. For chicken."
Check it out, courtesy of Comedy Central:
Have a tip we should know? tips@mediaite.com