And…Stephen Colbert Answers Questions In-Character During Congressional Hearing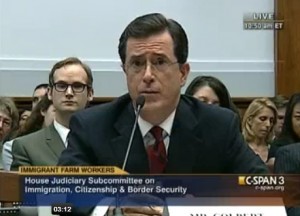 In testimony before the House Judiciary Committee's Subcommittee on Immigration, Citizenship, Refugees, Border Security, and International Law, political fundit Stephen Colbert proved, once more, his mastery of satire. Appearing in character as a right-wing cable ideologue, Colbert testified about his one-day experience as a farm worker. Following his opening testimony, Colbert participated in the question and answer period.
While he managed to take humorous shots at Congress, the Democrats, and gay Iowans, Colbert also managed the neat trick of poignantly underscoring the stickiness of the immigration debate.

Colbert had participated in the United Farm Workers' "Take Our Jobs" program, a challenge to citizens and legal residents to do the jobs of migrant workers. Asked how many of his comrades were legal or illegal, Colbert replied that he hadn't checked their papers, but "had a strong urge to do so."
He also pointed out that, legal or not, he had no way of knowing that any of them were citizens.
Colbert and Rep. Judy Chu also defended Colbert's standing as a witness, the latter listing former Republican congressional witnesses, including Elmo. Colbert went on to explain the heretofore unknown definition of "corn-packer."
Finally, though, Colbert brought the hearing around to the plight of farm workers. Asked why he was so interested in this issue, he paraphrased Matthew 25:40, saying "Whatever you do for the least of my brothers…" before his poignantly blunt summation that "migrant workers suffer…and have no rights."
Have a tip we should know? tips@mediaite.com