Stephen Colbert To Michael Moore: 'C'mon, You've Got Some Coin. The Hat's Not Fooling Anybody'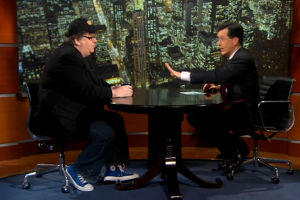 It's always interesting to see Stephen Colbert passionately argue a position in character that the real Colbert doesn't actually agree with. There are the obvious techniques he uses like dropping in a punch line to show how ridiculous he thinks what he's saying actually is, and then the more subtle ones like refraining from interrupting his "opponents" when they seem to be making a good point. But, before those punchlines get used, he does still make sure to make cogent arguments that you could actually hear coming out of a real conservative pundit (all the better for the jokes to hit), so it's fascinating to see how passionate guests from either ideology react to this. Colbert plays the character so well that Michael Moore, asked to defend his defense of the union protesters, even referred to conservatives as "the people on your side of the fence."
An moment came when Moore began railing against the top wealthy Americans and Colbert responded that his "hat wasn't fooling anyone," pointing out Moore's hypocrisy while implying his folksy headgear was about as genuine as President Bush's rolled up sleeves. Moore admitted that he was "blessed" financially and then, a few minutes later, got a shot back.
"I have a memo to you and that memo is that you won't be one of the 400 [wealthiest people in America]. You're just going to be a tool of Viacom for as long as Viacom will allow you to remain on the air."
This got a notably negative reaction from the left-leaning audience that had previously been eager to applaud Moore's comments. After all, the Colbert Nation's allegiances are with the host first and foremost. But Colbert played it off, saying he was a "proud tool."
He then got the last laugh, while throwing to commercial, he made sure to list the price Moore's movie was selling for on Amazon. However, both men were laughing. Clearly whatever role they played in the debate, the barbs were all in good fun.
Check out the clip from Comedy Central below:
Have a tip we should know? tips@mediaite.com