Sterling Trashes Magic Johnson For Getting HIV During Confrontational CNN Interview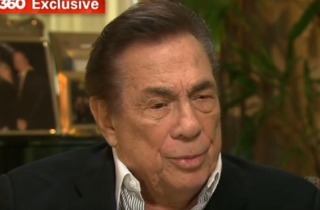 L.A. Clippers owner Donald Sterling sat down for an interview with Anderson Cooper that aired in full Monday night, in which Sterling denied he is a racist, suggested V. Stiviano "was baiting me" to say those horrible things, and teared up as he talked about how his family's been hurt by this and asked for forgiveness.
Sterling said, "I'm not a racist. I made a terrible, terrible mistake." He expressed his deep sorrow and regret for how many people were hurt by what he said. Sterling explained he was "a little jealous" of the woman on the audio with him, and said she was "baiting me just to say things." He also said, "I don't know why the girl had me say those things."
Cooper repeatedly grilled Sterling on that assertion and others, bringing up the fact he actually made these statements specifically about black people. At one point, Sterling strangely told Cooper that "you're more of a racist than I am."
Sterling was officially banned from the NBA mere days after TMZ published the audio of his racist rant by NBA Commissioner Adam Silver. Sterling said he has great love for his black players, his fellow owners, and the commissioner, and told Cooper that he feels bad for putting everyone in such a difficult position.
Sterling also, rather shockingly, wondered what the big deal is about Magic Johnson, saying Johnson had sex with tons of women and got HIV, wondering aloud why someone like that is viewed as some kind of role model. Johnson was called out by name in the damning audio and he reacted by saying he'll boycott Clippers games as long as Sterling's the owner. Sterling even called Johnson's charitable work into question.
You can watch Sterling's comments about Magic Johnson here, via CNN:
Below you can watch video from how the interview opened:
[image via screengrab]
— —
Follow Josh Feldman on Twitter: @feldmaniac
Have a tip we should know? [email protected]
Josh Feldman - Senior Editor