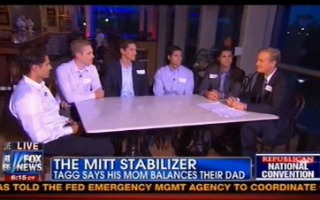 Mitt Romney's five sons — Ben, Josh, Craig, Matt and Tagg — all joined Fox & Friends' Steve Doocy on an early and less-than-bright Monday morning from windy Tampa.
Doocy asked the five brothers what they mean when they refer to their mother, Ann Romney, as the "great Mitt stabilizer."
"They're really close," they said, "so when he is able to take some his stress ask tell her about it, she has to kind of carry that burden. So i think for him, it's nice to have someone that's with him that can kind of share what he's going through and go through it with him."
"It's got to be tough on your mom," said Doocy, "as well as all of you, when, you know, people in the media take — and particularly the other side — takes shots at your dad, doesn't it?
"The people who say it are the people who know him the least," the brothers agreed. "The people who know him the best, respect him a lot and working for him and trying to help him get elected as president. You can't really worry about people who don't know you, what they say."
Later, turning the discussion over to bias in the media, Doocy told the brothers, "you watch [David] Letterman, he's obviously in the tank for Barack Obama," adding that "you watch all those Comedy Central shows, they're in the tank for Barack Obama as well."
"You know what," the bothers responded, "you just can't worry about that stuff. You can't control it, so you work with what you can control and don't worry about the other things."
Doocy then noted that an Obama surrogate in Chicago recently said "inappropriate things about your Mormon religion." The brothers responded that their father is "a man of faithm, he loves his God," and it is their hope that the country will be able to see that.
Poor Brian Kilmeade, meanwhile, was left outside to brave the elements while Doocy and the Romney boys enjoyed their chat.
Watch, via Fox News:
Have a tip we should know? [email protected]