Steve Doocy: 'Media Matters May End President Obama's Hopes Of Getting Re-Elected'
Steve Doocy: Media Matters May End Obama's Hopes Of Getting Re-Elected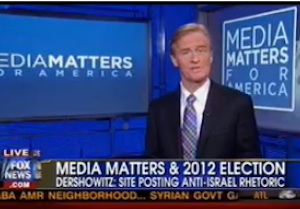 Things that make you go hmmm… On Friday's Fox and Friends, co-host Steve Doocy introduced an interview with Alan Dershowitz and made the startling declaration that Fox News watchdog group Media Matters could doom President Obama's releection chances.
"The liberal left wing organization with close ties to the White House may end President Obama's hopes of getting re-elected in November," Doocy said. "Those words now coming from a well known Harvard Law Professor, Professor Alan Dershowitz and he says Media Matters is posting anti-Jewish, anti-Israel hate speech on their site and that their rhetoric is dangerous for the president."
RELATED: Sen. Harry Reid To Media Matters Crowd: 'I Will Do Anything' To Promote Anti-Fox News Book
Doocy asked Dershowitz why he had declared war on the liberal advocacy group.
"Well, you know, I'm a liberal Democrat," Dershowitz explained. "But I can't tolerate bigotry on any site of political spectrum, Media Matters has crossed the line."
Dershowitz explained the site was posting anti-Semitic invective.
"They have accused any supporters of Israel of being Israel-firsters. They've accused AIPAC, the organization that President Obama is going to speak in front of, as having only one loyalty to Israel and not to America at all."
Doocy asked if Media Matters would be the "Jeremiah Wright issue" for Obama in 2012.
"That's right," Dershowitz affirmed. "Unless the administration disassociates itself from Media Matters and stops having strategy sessions and stops inviting them to the White House and stops being associated with them, the President should do to Media Matters what he did to Jeremiah Wright — totally disassociate, rebuke and say, 'I stand with Israel.' He has an opportunity to do that when he meets at AIPAC. I think he will show support for Israel and support for AIPAC but he has to distance himself from Media Matters. They're too close today for comfort. It's going to hurt him in the re-election campaign."
Watch the segment below, courtesy of Fox News:
Have a tip we should know? tips@mediaite.com