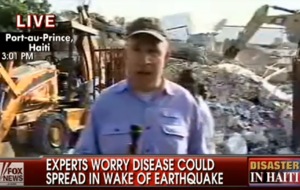 This one, from Steve Harrigan and Shepard Smith on Fox News this afternoon was one of those. It was brutally honest – and intensely sad.
Harrigan reported during Studio B while standing amidst rubble and injured, helpless people. He noted "a strong smell of death. It's a smell I haven't experienced since Rwanda. It's really bad." Later, he ominously described the "spectacle of death."
After referencing a woman who had lost several of her children, he reflected on the image of her lying in a field. "The desperation is really hard to imagine. I have a pretty thick skin I have seen a lot of stuff. I can ignore a lot of stuff," he said. Then, getting choked up: "That kind of loss is horrific in any culture, but in a culture where you're alone…it just makes it all the more difficult."
Smith summed it up after Harrigan's report, as only he can:
Haiti is going to be, for everybody who covered it and everybody who lived through it, the smell of death. And it will not go away for weeks or months or years, because you see the process of excavating- it's very slow. And quite frankly I'm told the looters follow in behind. And the uncovering of the dead becomes a show with a lack of anything else to do and a lack of water and food. This is a story where the pictures are going to look the same over the days ahead and we are all going to get bored with it because we always do, and then they'll all be truly alone, and then they'll really need us.
Here's the emotional video (h/t Johnny Dollar):


—–
» Follow Steve Krakauer on Twitter
Have a tip we should know? tips@mediaite.com