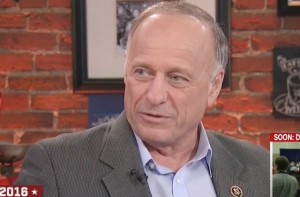 Some on the right are mystified as to why religious conservative and past Ted Cruz supporter Sarah Palin has decided to throw in with Donald Trump over the strong conservative senator. Well, Congressman Steve King thinks he might know why…
On MSNBC this morning, King saw part of Sarah Palin's Today Show interview. Not the part when she flipped out on her interviewers, but the part when she said that she like Cruz and is proud of supporting his Senate bid, but wants him to stay in the Senate.
King told NBC's Chris Jansing, "I didn't hear a reason from Sarah Palin in that. She just said it wasn't a hard call."
He pointed out that no one really says no to Trump, and very strongly intimated Palin may have been bought off:
"He has a massive amount of assets and resources that he can deploy when it comes time to convince someone. And that has to affect the way people think. Not only the plus-ups of the promotion, the limelight, all the resources that are there."
Jansing asked him if he seriously thinks Palin's just backing Trump out of "self-interest." King was vague, but said, "When I see where Sarah Palin has been on policies and issues, I'm confident that she's much more comfortable with Ted Cruz's issues than she is with Donald Trump's."
Watch above, via MSNBC.
[h/t Weekly Standard]
[image via screengrab]
— —
Follow Josh Feldman on Twitter: @feldmaniac
Have a tip we should know? tips@mediaite.com
Josh Feldman - Senior Editor