Stewart And Chris Christie Clash: GOP Only Wants Government Assistance When It Benefits Them
Stewart And Chris Christie Clash: GOP Only Wants Gov't Assistance When It Benefits Them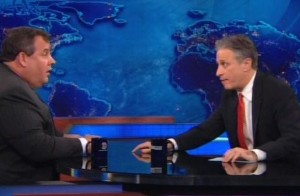 New Jersey governor Chris Christie sat down with Jon Stewart to talk about the continuing relief efforts going on in New Jersey following Hurricane Sandy, but they also managed to hit on the politics surrounding the hurricane relief, Christie's relationship with President Obama, his decision to and, of course, how much they both love Bruce Springsteen.
RELATED: Stewart: Chris Christie 'Kicked Crazy Ass' Working With Obama On Hurricane Relief
Stewart opened with the Springsteen talk, saying one of the only things he and Christie might agree on is that they both would love a hug from the Boss himself. Christie revealed that he actually got a "man hug" from Springsteen during NBC's big telethon a few weeks ago.
Christie then addressed his visit to D.C. to ask for more federal relief funds. The governor said it was hard for him to witness so many iconic places along the Jersey Shore destroyed, and dismissed the idea that it was only "millionaire homes on the beach" that were affected by the hurricane. Christie said that both he and Obama are concerned with getting money to where is needed immediately. Stewart pointed out that before the hurricane, Christie was really giving it to Obama, and poked some fun at him over his sudden turnaround on Obama's leadership skills.
After the break, Stewart brought up the fact that as Christie was in D.C. asking for a ton of money for hurricane relief, he vetoed health care exchanges in New Jersey. Christie said the state legislature is not answering his questions about how much it's going to cost, adding that he will reconsider his decision once they provide him with all the information he needs.
Stewart confronted Christie over what he views as an overarching philosophy of the Republican party, namely that they seem to be okay with government assistance when it benefits them. As he pointed out to Christie, "if you have cancer and you don't have health insurance, that's Hurricane Sandy." Christie said that people still have health care coverage, just not a state-based exchange.
Stewart and Christie tussled over it a bit before Stewart offered to continue their discussion over dinner.
Watch the full extended interview in three parts below, via Comedy Central:
Part two:
Part three:
—–
Follow Josh Feldman on Twitter: @feldmaniac
Have a tip we should know? tips@mediaite.com
Josh Feldman - Senior Editor