Stewart Calls Out Huckabee's Gay Marriage Stance: You Make 'No F*cking Sense!'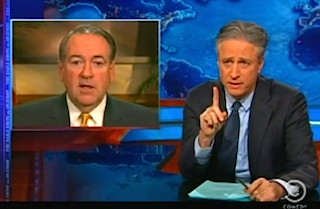 When Jon Stewart's planned opening segment Monday night got ruined when the Defense Department decided to do the right thing, he turned to the next best topic: recent statements from his old friend Mike Huckabee as he continues his God, Guns, Grits, and Gravy
book tour.
First, Stewart took on Huckabee's description of New York women throwing around "f-bombs" in the workplace as "trashy." The host asked what kind of "cock-sucking bullshit is this?" (Or at least that's a best guess given all the bleeping.)
"The worst thing a Southern businesswoman might say is 'fudge.' and then she would probably offer you a plate of fudge," Stewart said, showing a photo of Paula Deen. "Oh wait, unless, wait, I'm sorry. Is the 'n-word' a curse? Or is that more just a tradition?"
Then, he moved on to Huckabee's comments this weekend on CNN when he insisted he has gay friends and said asking a business to provide services to a same-sex wedding would be "like asking a Jewish deli to serve bacon-wrapped shrimp."
"Not all Jews own a deli," Stewart told Huckabee. "Some of us, and I say this with respect, some of us are lawyers who represent deli owners."
"But more important, that analogy makes no fucking sense," he continued. "No one is forcing you to get metaphorically married to the Biblical abomination that is this bacon wrapped shrimp."
From there, Stewart began to interview a bacon-wrapped-shrimp with the voice of Samantha Bee.
Watch video below, via Comedy Central:
[Photo via screengrab]
— —
>> Follow Matt Wilstein (@TheMattWilstein) on Twitter
Have a tip we should know? tips@mediaite.com