Stewart Can't Believe China Got Iraq Oil: Bush Bombed And Invaded Them And This Is How They Repay Us?!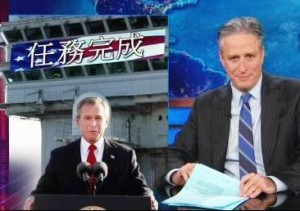 Jon Stewart was stunned tonight to find that the winner of the Iraq war was not the United States, Iraq, or even Daniel Day-Lewis. It's… incredibly long drum roll here… China! He complained, "Don't you have to be in a war to win it?" As it turns out, China is receiving great economic benefit from purchasing a ton of Iraqi oil, but Stewart couldn't help but feel Iraq was neglecting the U.S. and treating them poorly after the U.S. did so much… never mind.
Stewart remarked that China has already beaten the U.S. at "synchronized drumming, bear cuteness, [and] air chewability," and now they're taking America's big Iraq war win. He was slightly confused why Iraq would give a lot of oil contracts to China, saying to Iraq, "Come on, man! We launched a sustained shock-and-awe bombing campaign on your country, reduced your already-stressed infrastructure to rubble, and unleashed a bloody sectarian conflict that even now costs your country hundreds of lives per month…
…and this is how you repay us?"
Stewart boasted that when the U.S. spends two billion dollars in Iraq, it's to look for "the other nine billion dollars we lost." He mockingly declared the oil to belong to America, comparing Iraq to a slot machine and the U.S. to a "chain-smoking retiree just pumping in quarter after quarter after quarter," and China waltzes in during our bathroom break and just wins after one quarter.
And what's the punchline to all this? China opposed the Iraq war and even tried to aid Sadaam Hussein! And the only reason they made this deal, as Stewart put it, is that "we gave them capitalism!"
Watch the video below, courtesy of Comedy Central:
—–
Follow Josh Feldman on Twitter: @feldmaniac
Have a tip we should know? tips@mediaite.com
Josh Feldman - Senior Editor