Stewart Challenges Warren: What Does Your 'Wing' of the Democratic Party Stand For?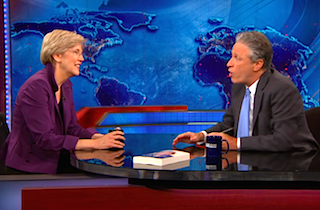 Jon Stewart conducted a multi-segment interview last night with Sen. Elizabeth Warren (D-MA) without once asking her if she is planning to run for president in 2016. But the Daily Show host did ask her to address what has widely become known as the "Elizabeth Warren wing" of the Democratic Party, which in may ways stands in opposition to the "Hillary Clinton wing."
"Congratulations!" Stewart said at the top of his interview. "You have your own wing now of the Democratic Party. There is a Warren wing, apparently." He asked her if she gets the sense that it's growing.
"You know, I do get that sense," Warren admitted, insisting that it's not just her wing but "our wing." Repeating her mantra that the Washington game is "rigged," Warren gave Stewart credit for "calling that out" better than anyone else.
The main thing that Stewart wanted to know from Warren is whether her political colleagues are "cynically manipulating" or "true believers" in the system. The senator said that it all goes back to "powerful corporations" and "rich people" who have figured out how to "bend the government" to their will. From what she can see, the lobbyists are always there to "make sure that the tender fannies of the rich and the powerful are always carefully protected."
"The wind only blow in one direction," Warren added. "It only blows from the direction of those who have money." And the idea of "doing the people's business" with efforts like raising the minimum wage ends up going out the window.
It is those kinds of statements that voters will continue to hear from people like Warren and Sen. Bernie Sanders (I-VT), but might be harder to elicit from the Democratic Party's presumptive nominee, Hillary Clinton.
Watch Stewart's full extended interview with Warren below, via Comedy Central:
[Photo via screengrab]
— —
>> Follow Matt Wilstein (@TheMattWilstein) on Twitter
Have a tip we should know? tips@mediaite.com