Stewart Demolishes Conservative Cries Of Obama Gun 'Tyranny': 'You Just Look Like An A**hole'
Stewart Rips GOP Cries Of Obama Gun 'Tyranny': 'You Just Look Like An A**hole'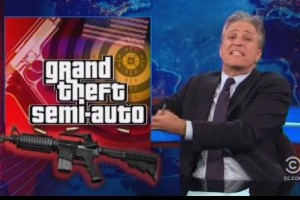 One of the biggest reactions to President Obama's executive orders on gun violence from the right has been to call the twice-elected president a "tyrant" with designs to take guns away from law-abiding citizens. Jon Stewart tore into the hyped reactions, saying that tyrants do not go to their legislatures to pass laws, and people convinced that Obama is bringing tyranny to the United States look like assholes.
RELATED: Stewart And Bob Schieffer Take On How Pro-Gun 'Interest Groups' 'Skew' Media Coverage Of Gun Control
Stewart looked at the wall-to-wall Fox News coverage of Obama's announcement, which ranged from calling it an "unprecedented assault" on the Second Amendment and saying that Obama has "rip[ped] our Constitution to pieces." Stewart wondered what possible "fascistic dictates… King Obama" could have decreed. Well, Obama asked Congress to pass an assault weapons ban, leading Stewart to comment that "when tyrants want something done, they generally don't ask their legislative bodies."
Stewart also found it odd that Obama is suddenly Hitler merely for issuing two dozen executive orders. Stewart called out Fox News personalities Sean Hannity and Dana Perino for attacking Obama on executive orders but defended George W. Bush when he did the same.
Stewart admitted that Obama trotting out children at his announcement was "some manipulative political bullshit," but argued that the right wing has been far more emotional in its arguments. He said told the pro-gun crowd is that if they fear tyranny and it doesn't happen, "you just look like an asshole."
Stewart dismissed arguments that German Jews with guns could have taken down Hitler or black people with guns would have meant slavery wouldn't have happened, wondering about the latter if black people would have only gotten three-fifths of a gun.
Stewart said that paranoid gun owners are just "confusing tyranny" with losing an election, pointing out that "tyrants don't have to fight that fucking hard for Ohio" and don't show up for debates.
Watch the video below in two parts, courtesy of Comedy Central:


Part two:
—–
Follow Josh Feldman on Twitter: @feldmaniac
Have a tip we should know? tips@mediaite.com
Josh Feldman - Senior Editor