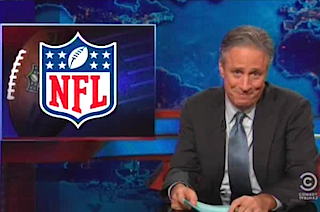 Jon Stewart turned his attention back to the NFL's "image problem" at the top of The Daily Show Wednesday night. After reviewing the Ray Rice scandal, Stewart moved on to the league's handing of another domestic violence case involving Carolina Panthers defensive end Greg Hardy. "It's the kind of firm decision making we've come to expect from people who don't know what the fuck they're doing," he said.
But that's not all! Now, Minnesota Vikings running back Adrian Peterson has been indicted on child abuse charges, even though he claims he's not a child abuser. "You beat a four-year-old with a tree branch," Stewart told Peterson. "Here's a tip for any pro football players out there, curious as to whether or not they may be child abusers: You can't do something to a four-year-old that you are not allowed to do to a 300 pound lineman in a helmet and pads."
"When I hear all these running around and the NFL changing their position an redoing it and then coming back and not knowing what they are doing, it really makes me wonder, what is this stupid person make of all of this?" Stewart asked.
With that, he played a clip of Sean Hannity warning that liberals could make it illegal for a parent to tell their child that "being gay is not normal."
"Seriously, your special brand of spiteful ignorance will always be legal," Stewart told Hannity. "And profitable, so sleep well, friend."
Hannity's "arbitrarily connected homophobia" made Stewart recall the good old days when the media worried that openly gay player Michael Sam would be a "distraction" for the NFL.
"Remember those days?" he asked. "How scared the NFL was back then, that a gay man would ruin their league? Oh, what the NFL wouldn't do right now for that kind of distraction!"
And all of this was taped before Arizona Cardinals running back Jonathan Dwyer was arrested for assaulting his wife and 18-month-old son.
Watch video below, via Comedy Central:
[Photo via screengrab]
— —
>> Follow Matt Wilstein (@TheMattWilstein) on Twitter
Have a tip we should know? tips@mediaite.com