Stewart Eviscerates Glenn Beck's Freedom Town Plans: Sounds Like A 'Perfect Marxist Utopia'
Stewart Rips Beck's Freedom Town Plans: Sounds Like A 'Perfect Marxist Utopia'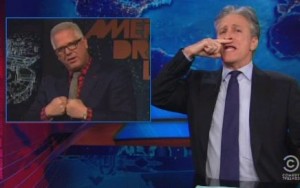 If you love America, then why wouldn't you want to live in a town that isolates you from the rest of America? Jon Stewart helped pitch these new isolated towns by advocates of a less intrusive federal government, including one promoted by Glenn Beck. Beck has repeatedly emphasized that he wants to stop the government from stifling freedoms, which is why Stewart found it odd that his libertarian utopia sounds instead like a Marxist utopia.
RELATED: Glenn Beck Celebrates Death Of Republican Party With Cake, Confetti, And Footage Of Dying Elephants
Stewart introduced viewers to both the Citadel, a "haven of liberty safe from the liberal tyrants," and Beck's proposed town of "Independence, USA" as the two major hallmarks of this new isolationist notion. Stewart compared likened such towns to a "freedom panic room." Beck has not been featured on The Daily Show in a while ever since he moved to the internet, where, as Stewart described, "laws have no meaning and cats can haz cheeseburgers."
Stewart took issue with Beck's adherence to patterns is a supposedly free society, as well as his bizarre insistence that there will be ABSOULTELY NO GAP or Ann Taylor to shop at. And with Beck's suggestion that all food be local, Stewart used Beck's own words about controlling people to basically compare Beck to a Hitler-like leader.
Stewart found it striking that Beck's right-wing, liberty-minded town sounds so much like a "perfect Marxist utopia," particularly with Beck's comment that his town will "break the class barriers," and got to the real heart of what Independence, USA is about.
"They don't really believe in freedom. 'Freedom to.' They believe in 'freedom from.' Freedom from liberals, from people they disagree with. From the sensibly priced clothing of Ann Taylor. These folks that cloak themselves in patriotism pretending they alone can reveal the true intent of our Constitution are not our Founding Fathers incarnate. They're just another shitty neighborhood association whose nostalgia utopia will fall apart the minute somebody decides to paint their house mauve."
Watch the video below in three parts, courtesy of Comedy Central:


Part two:
Part three:
—–
Follow Josh Feldman on Twitter: @feldmaniac
Have a tip we should know? tips@mediaite.com
Josh Feldman - Senior Editor