Stewart Hilariously Suggests Bill O'Reilly For Next Pope, But Doubts He'll Accept The 'Demotion'
Stewart Hilariously Suggests O'Reilly For Pope, But Doubts He'll Accept The 'Demotion'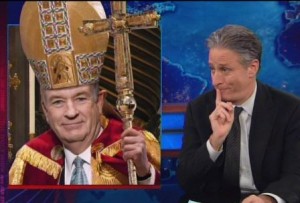 Jon Stewart tonight took on the ongoing search at the Vatican for the next Pope in the wake of Pope Benedict resigning from the papacy. Stewart suggested Bill O'Reilly as a possible replacement, and brought on correspondents to break down the negative ad campaigns between the potential new Popes and the suspicious wording of some of the Vatican's rituals for selecting the new pontiff.
Stewart briefly addressed Rand Paul's filibuster, which he described as "thoroughly entertaining," and mocked Mitch McConnell for trying to get into the fray with his junior colleagues.
RELATED: Jon Stewart Takes On Pope's Resignation, Mocks '007 Cardinals': They Could Star In 'Nopussy'
Stewart then took on the search for the new Pope, and after hearing that any male Catholic could technically be selected for the position, he suggested Bill O'Reilly, though he doubted O'Reilly would accept the "demotion." Stewart mocked a reporter observing that one of the candidates was acting like a "boy scout" in helping one of the other cardinals, commenting "Boy scouts helping priests? What could be more wholesome than that?"
Correspondent Aasif Mandvi briefly came on to break down the negative ad campaigns being waged between cardinals, including a particularly devastating attack on one cardinal's Oscar pool. Stewart then brought up the process of who gets to vote and where, turning to correspondent Samantha Bee for more.
Bee explained the language used to describe certain aspects of the gathering. A collective group of cardinals is known as a "grope," and they gather for a voting process known as "molestation," and, Bee concluded, no one gets to leave until the conclave reaches "fellatio"… the oral consensus on who the new pope will be.
Watch the video below, courtesy of Comedy Central:
—–
Follow Josh Feldman on Twitter: @feldmaniac
Have a tip we should know? tips@mediaite.com
Josh Feldman - Senior Editor