Stewart Laughs in Pelosi's Face After She Admits She Doesn't Know Why Obamacare Site Failed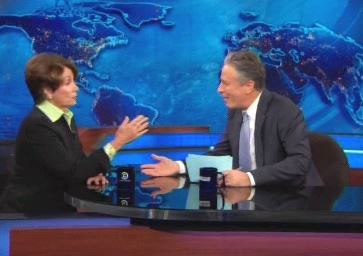 House Minority Leader Rep. Nancy Pelosi (D-CA) sat down with The Daily Show host Jon Stewart on Thursday for a contentious interview. The interview became tense when Stewart attempted to get Pelosi to explain why government appears to function so poorly to the outside observer. When Pelosi attempted to explain why this was the case, Stewart became even more agitated.

"Right now, we have a school of thought in the House Republican caucus that is anti-government, anti-science, anti-Obama," Pelosi said when asked about the nature of governance in Washington. "They have a trifecta that just enables them to vote against everything."
Stewart said that Democrats are then required to make a stronger case. He said that Democratic governance now appears "chaotic" and their execution of legislation appears to "lack efficiency." When Pelosi again blamed Republicans for this condition, Stewart became even more agitated.
RELATED: Nancy Pelosi to Her Members on Budget Deal: 'Embrace the Suck'
When he asked why it was so difficult to get a company to execute the Affordable Care Act's insurance exchange website "competently," Pelosi replied, "I don't know."
"What do you mean you don't know? How do you not know?" Stewart asked laughing.
Pelosi called the failed website "shameful," but noted that it is improving.
Stewart circled back to a philosophical pro-government argument that Democrats espouse but at the same time have been unable to demonstrate competency. He cited President Barack Obama's campaign which had an efficient online process, but noted that it was impossible for that team to work on the ACA.
"Doesn't matter," Pelosi said. "What matters is it should have been prepared for."
"Do we have a foundational problem? Is there a corruption in the system that needs to be addressed?" Stewart asked. Pelosi went on to detail the issues with bureaucracy and the failure of departments to communicate with each other. "Okay, do something about it," Pelosi said.
"I was actually going to say that to you," Stewart interjected.
Watch the interview below via Comedy Central:
[Photo via screen grab ]
— —
> >Follow Noah Rothman (@NoahCRothman) on Twitter
Have a tip we should know? tips@mediaite.com