Stewart Mocks Opposition To Voting Rights Act: Why Not Go Back To 'Discriminating First, Stopping It Later?'
Stewart Slams Opposition To Voting Rights: Why Not Go Back To Discriminating First?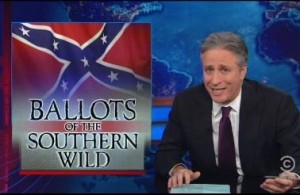 Jon Stewart tonight focused on the Supreme Court holding hearings on the constitutionality of the Voting Rights Act. After Stewart got through with Wall Street's big news, he said, "you know what else we fixed? Racism." He spent the rest of the segment rebutting the objections brought by opponents of the Voting Rights Act, including the idea that the United States is now "free of racism" and Justice Antonin Scalia's contention that the Senate only unanimously reauthorized it because they were too scared to oppose it.
RELATED: SNL Lays Into Justice Scalia Over Voting Rights Act: The South Is Still 'The Michael Jordan Of Racism'
Opponents of the Voting Rights Act argue it's unfair that states with a history of systemic discrimination have to get federal approval to make changes to voting law. Stewart shot back, "If you want to move near a school and you were a sex offender, you have to run that by someone!" He ripped Shelby County, Alabama, the little county that brought the big case all the way to the high court, for rationalizing that a black man is president, ergo we're now "free of racism."
Stewart mockingly asked why the U.S. doesn't just go back to the way we used to do things: "discriminating first [and] stopping it later." In response to a question of whether the South is more racist than the North, Stewart said, "No, we've been to Boston."
He brought up how it was universally reauthorized in the Senate in 2006, which Scalia attributed to political reasons. Stewart slammed Scalia for thinking "Congress is too frightened to challenge it based on the appeal of its name."
Watch the video below, courtesy of Comedy Central:
—–
Follow Josh Feldman on Twitter: @feldmaniac
Have a tip we should know? tips@mediaite.com
Josh Feldman - Senior Editor