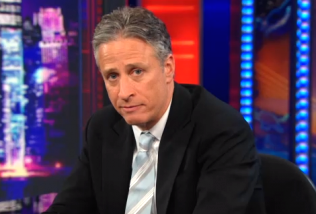 Jon Stewart gets his fair share of criticism for what some would deem "crossing the line" in his comedy, but in a new interview, the Daily Show host finds it interesting that scolding comedians is of more interest to people than actually directing their ire at the government.
Stewart talks a bit about the press and hyperbolic media coverage in an interview with The Washington Post. And, of course, Stewart took a shot or two at Fox News. He says that the conservative media loves just upping the ante on everything, going from "Liberals are wrong" to "Liberals want to fuck your dead grandparents" in a matter of minutes.
Stewart also addressed the controversial Redskins segment that got lots of media attention before it aired. Stewart said they didn't want to shy away from the controversy when it aired because, he believes, comedy should be a transparent medium.
And speaking of transparent mediums, Stewart observed that people seem to get more of a kick out of scolding comedians for crossing the line than they do people who make the decisions that affect their lives:
"What's so interesting to me is the concern that people have for the rules of the moral universe of comedy, but not as much concern for the moral universe of governance. I've never heard someone ask a leading figure, 'Where do you draw the line?' I hear that a lot to comedians: 'What's too far?' I don't think I've ever heard that with a president. What's too far? Solitary confinement? Incarceration for, you know, three-strikes-and-you're-out drug convictions? Bombing civilians?"
And no, Stewart has no interest in actually getting into the political game himself.
[image via screengrab]
— —
Follow Josh Feldman on Twitter: @feldmaniac
Have a tip we should know? tips@mediaite.com
Josh Feldman - Senior Editor