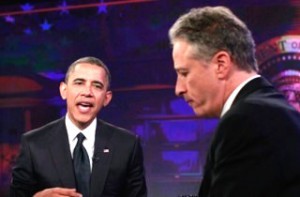 For Jon Stewart, this certainly isn't the high note he wanted to go out on.
The guy who prides himself on speaking truth to power, as the anti-establishment, take-to-both-sides-hero for millennials everywhere… reduced to a stenographer for a sitting president so thin-skinned about any and all criticism that he needs to dictate his own comedy. As originally reported in Politico by Darren Samuelson, the outgoing Daily Show host met with President Barack Obama twice in the past four years but failed to let anyone know about it. It was only then that Stewart — who loves to play the "I'm just a comic. Don't take me seriously!" card anytime he gets called out on something — decided to go the Stephanopolus route in trying to explain away his two meetings with the president.
"Well, I mean, I don't know if they were secret," the 52-year-old said last night while pointing out his name (which one?) was clearly on the visitor logs. It all sounds so much like Stephanopoulos explaining that his donations to the Clinton Foundation that were also there for all the public to see… buried on his tax forms. All I know is this: If I met with the president and hosted a program which primarily focuses on politics, pretty sure I'd let my audience know at the very least that what had happened. Unless, of course, I have to carry out my PR orders in a way no White House Press Secretary or Sunday talk show appearance ever could.
Before this appears to be an ideological thing, know this: It's been stated in this space on numerous occasions that these kind of off-the-record meetings attended by an eager media hoping to take a selfie in the Oval Office like it's a sophomore year field trip are truly pathetic. It happened throughout Bush 43's term with conservative media and again with the current president (progressive hosts and the aforementioned face of the Daily Show primarily getting invites).
It really makes little sense from a journalism perspective to go down this road: Why attend a meeting with the most powerful person on the planet if you can't report back what was said? In the end, these people are there not for an interview, but for instructions. And that's exactly why Stewart took the Acela down to DC: To come back to New York and serve as the Baghdad Bob of arguably the most influential news program—forget that it's billed as fake—on the dial right now.
But don't take him seriously… he's just a comedian that happens to have access to the president. All major comedians can say that, right? He's also a director and has acted in the past.
Looks like it's time to add stenographer to the list as well. No matter…Stewart will get the Letterman treatment next week when he leaves The Daily Show, and rightly so. He didn't earn $25-$30M a year for hosting a show four days a week for nothing. His timing, delivery and intelligence is something you don't teach or learn.
In the end, Jon Stewart will be looked back on as one of the great performers of our generation.
He's also one of the more dishonest, and about as phony as they come.
— —
>> Follow Joe Concha on Twitter @JoeConchaTV
Have a tip we should know? tips@mediaite.com