Stewart Rips 'Liar' Lance Armstrong And The 'Idiots' (Including Stewart) Who Believed Him
Stewart Rips 'Liar' Lance Armstrong And The 'Idiots' (Like Stewart) Who Believed Him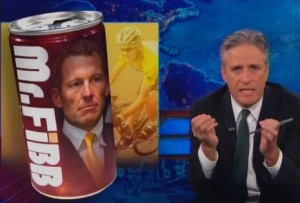 Jon Stewart spared no expense in tearing into disgraced cyclist Lance Armstrong on his show. After learning of Armstrong's confession and expressing some sadness over the revelation, Stewart wondered who could possibly be powerful enough to get a public confession out of such a high-profile figure. The answer: Oprah Winfrey.
Stewart couldn't help but shout out a bunch of confessions to an image of Oprah because she's just that powerful. Stewart ran a clip of Oprah talking about the interview on CBS to her friend Gayle King, commenting that Oprah wasn't even on screen, she just "appears to Gayle whenever Gayle stares into a reflective surface."
But getting back to Armstrong, Stewart couldn't fathom how no one realized the entire time that Armstrong was doping, akin to the realization that the tooth fairy isn't real. He brought up an old clip of him interviewing Armstrong and bringing up the doping charges, commenting that given how much better Armstrong has aged than him, "I need to start doping." And as for Armstrong offering to speak out against other dopers, Stewart mockingly praised Armstrong for trying to elevate himself from a "liar" to a "snitch."
Correspondent Aasif Mandvi then appeared in a brief medical segment in which he deduced that Armstrong was able to get away with it for so long because he took lie-enhancing drugs.
Watch the video below, courtesy of Comedy Central:
Part 2:
—–
Follow Josh Feldman on Twitter: @feldmaniac
Have a tip we should know? tips@mediaite.com
Josh Feldman - Senior Editor