Stewart Skewers Media over Chasing Hillary's Van: 'What Are We Doing Here, People?!'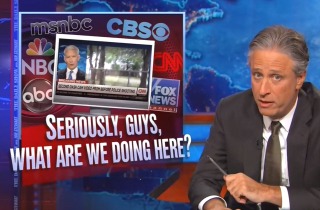 On Wednesday's Daily Show, Jon Stewart went after the media for its obsession over Hillary Clinton's so-called "Scooby van" in Iowa.
"What are we doing here, people?!" Stewart lamented, just one day after he lampooned the very same media for their fixation on Clinton's Chipotle visit.
Even if those media folks were able to catch up to Clinton, Stewart said, they only would've gotten irrelevant footage of the former secretary of state getting out of a van and walking into a building.
Stewart said the news media usually do a good job playing footage that is "genuinely newsworthy" — except, of course, when they continuously play a tragic video of a man getting shot by a police officer: "Are you f*cking kidding me?!" Stewart said after playing the TODAY show's opening graphic, which immediately showed the video of South Carolina police officer Michael Slager fatally shooting Walter Scott.
–RELATED: MSNBC Reporter Probably Would've Chased Clinton if He Hadn't Been on Camera
"The ubiquity of cell phones is far outpacing police awareness of the ubiquity of cell phones," Stewart said, speculating what it must be like in CNN's standards and practices department. "Hey, you can't say f*ck on the air — kids might be watching! And re-rack that shooting footage — kids might be watching."
Watch the video below, via Comedy Central:
[Image via screengrab]
— —
>>Follow Andrew Desiderio (@forza_desiderio) on Twitter
Have a tip we should know? tips@mediaite.com