Stewart Slams Wrongful Foreclosures: Like A Key Party, But 'Instead Of F*cking Your Wife,' They Lose Your Deed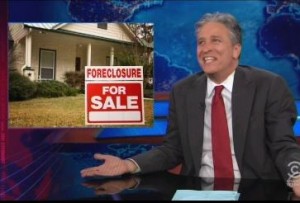 Jon Stewart took on news tonight that four million people were wrongfully foreclosed on due to some bank errors. He opened by mocking anti-government sentiment ("the government is so stupid, the free market could run the country") and showed this as an example of the private sector really screwing up.
Stewart was amazed to find that the whole thing may have been caused by an online system created because banks didn't want to have to deal with all the annoying paperwork. Stewart likened the whole thing to a key party, "but instead of fucking your wife, they lose track of the deed to your house."
Stewart expected the government to take some serious action on this, but instead they just let the banks hire people and pay them to look into how the banks are doing. And it ended up being abandoned entirely and "helping almost no one," which Stewart found to be an apt government slogan.
But if you were expecting anyone to go to jail, Stewart just laughed at the very idea, pointing out they basically paid an arbitrary, non-calculated sum of nine billion dollars to settle everything. Stewart said this was a perfect number, because it's big enough to impress consumers, and small enough "to teach the banks no lesson whatsoever." And, on top of that, most people were compensated with $300…
…assuming the checks didn't bounce. Which, it turns out, is happening. Stewart capped the segment with a convenience store picture warning not to accept checks from Uncle Sam.
Watch the video below, courtesy of Comedy Central:
—–
Follow Josh Feldman on Twitter: @feldmaniac
Have a tip we should know? tips@mediaite.com
Josh Feldman - Senior Editor