Stewart Tackles Gay Rights in Kansas and Alabama: 'There's No Place Like Homophobia'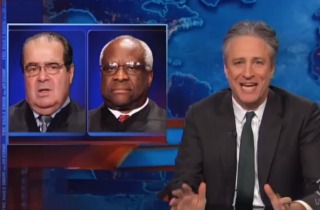 Jon Stewart began his show on Wednesday night by addressing his impending departure from The Daily Show, and based on the reaction he saw on the Internet, said it was as if he had died. He said he still is not sure what is next for him, but acknowledged he has been overwhelmed by the reactions. But, as he proclaimed, he had a show to do tonight.
Stewart tackled a few gay rights issues, and started with Kansas Gov. Sam Brownback's decision to scrap LGBT worker protections in the state. As a result, he said, the word "Brownback" should get the "Santorum" treatment, because in Kansas, "there's no place like homophobia."
He moved on to Alabama's back-and-forth over gay marriage, which has garnered lots of attention in the news lately. Alabama's Chief Supreme Court Justice Ray Moore said the federal government does not have the power to re-define marriage, and used the "slippery slope" argument. Stewart wasn't having any of it.
"This is about real people, whose lives are being affected by this right now," he said.
He then moved on to Alabama's controversial amendment prohibiting state officials from using "foreign law" to justify any of the state's decisions: "Where was the Bible written again?" So, according to Stewart, if when it comes to gay marriage Alabama officials say biblical law trumps federal law, that amendment runs contrary to their belief.
"You have f*cked yourselves with your own statute," he added. "Or as I hope it becomes to be know — Brownbacking."
Watch the video below, via Comedy Central:
[Image via screengrab]
— —
>>Follow Andrew Desiderio (@forza_desiderio) on Twitter
Have a tip we should know? tips@mediaite.com