Stewart Tears Apart Cheney: Where Does This 'Shi*ty' VP 'Get The Balls' To Attack Obama?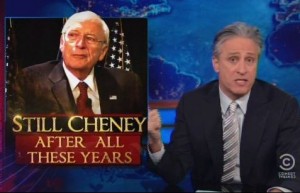 Jon Stewart tonight took on a little blast from the past: former vice president Dick Cheney. Stewart was amazed that Cheney had the nerve to criticize President Obama over national security when he himself provided false information to the public on national security issues. Stewart called Cheney a "shitty" vice president and couldn't believe that people are taking the word of a man who Stewart said "sucked" at his job.
RELATED: Dick Cheney Backs Drones — But Hits Obama For Wanting To Do 'Serious, Serious Damage' To Military
Stewart brought up comments "professional frown hoarder" Cheney about how Obama is weakening America how his "terribly flawed" policies are making the nation less safe. Reacting to Cheney laughing at a question about whether or not Obama would hear his remarks, Stewart said, "every time Dick Cheney laughs, an angel gets stabbed in the dick."
Stewart then tore into Cheney over why anyone should care about his opinion anyway. He said that Cheney "sucked" at his job, calling him a "shitty" vice president and arguing why Cheney has no authority from which to attack Obama.
"Even if Obama wanted to take our standing in the world down a peg, he couldn't, 'cause the Bush-Cheney administration left him with no peg room… the previous administration had left us in a bit of a cash crunch, and by 'previous administration,' I mean these motherfuckers."
Stewart then ran clips of Cheney making comments about American involvement Iraq that turned out to be untrue.
For the rest of the segment, Stewart focused on the recent nuclear test out of North Korea, mocking their use of a smaller device in a gag that included a mocked-up mini-Anderson Cooper eating a Ritz cracker.
Watch below, courtesy of Comedy Central:
—–
Follow Josh Feldman on Twitter: @feldmaniac
Have a tip we should know? [email protected]
Josh Feldman - Senior Editor