Stewart Tears Into IRS Officials For Memory Loss, Congress For Gushing Over Apple: 'Opposite Of A Genius Bar'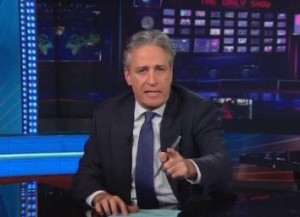 Jon Stewart tonight poked fun at two big hearings on Capitol Hill this week: one on the IRS scandal, and one on Apple avoiding taxes by throwing millions of dollars into offshore accounts. In one of those hearings, the individuals testifying were cagey and being grilled overzealously by members of Congress, while in the other, senators were practically gushing over the person testifying. Take a guess which is which.
Stewart mocked IRS officials for denying knowledge of the political targeting of tea party officials, mockingly adding helpful excuses like "I showed up to work drunk!" or "I don't know how to read!" Stewart also took Lois Lerner to task for invoking the fifth amendment, as well as the IRS for not giving documents to Congress on time. Stewart wryly noted how "the IRS missed their filing deadline."
Stewart then turned to the Apple hearing and how members of Congress were not only not grilling CEO Tim Cook, but they were practically gushing over him and Apple products. Stewart added, "I want to iFuck you!" and tore into Congress for being "the opposite of a genius bar." And on Cook's point that the tax code needs to be simplified, Stewart said that corporations are precisely the reason the tax code is so complex in the first place, though not nearly as complex as Apple terms of service agreements.
Watch the video below, courtesy of Comedy Central:
—–
Follow Josh Feldman on Twitter: @feldmaniac
Have a tip we should know? tips@mediaite.com
Josh Feldman - Senior Editor