Stewart Tears Into State Of The Union, Slams Obama: 'Who's Running This Sh*thole, Right, People?'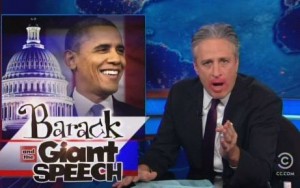 Jon Stewart took on last night's State of the Union, and in the midst of a series of hydration gags mocking Marco Rubio's sip of water, Stewart was alarmed that President Obama has only just now alerted Americans to the fact that there are thousands of structurally deficient bridges in the country. Stewart also slammed Obama for claiming that he has been transparent in providing Congress details about the controversial drone program.
RELATED: President Obama's 2013 State Of The Union Address: Full Video And Transcript
Stewart first took on Obama laying out the grim realities facing the nation today, remarking "who's running this shithole, right, people?" He said Obama laid out an America that resembles an "Applebee's-laden dystopic hellscape."
But what really set Stewart off was Obama's declaration that there are "70,000 structurally deficient bridges" in the United States. Stewart demanded to know why he didn't just open with that and just shout right off the top, "THE BRIDGES ARE DEATH TRAPS!" On Obama's three questions that every American should ask themselves in the morning, Stewart came up with questions of hiw own: "Which of the 70,000 bridges of death are near my house?", "Are the tunnels okay?", and "How did he meet their mother?"
During one of the hydration gags, Stewart applied some chapstick that he quipped made him look like an "aging French whore." He also found the 102-year-old woman Obama introduced to be "the most adorable woman" ever; so adorable, in fact, that she should be a Monopoly token.
But one thing Stewart couldn't let go was Obama's claim that he has been open with Congress about the controversial drone strike program. Stewart called him out, saying that last week members of Congress were requesting quite a bit of information that the administration has yet to provide.
Watch the video below, courtesy of Comedy Central:
—–
Follow Josh Feldman on Twitter: @feldmaniac
Have a tip we should know? tips@mediaite.com
Josh Feldman - Senior Editor