Stewart Topped Leno in Late Night Demo? NBC & Comedy Central Quarrel Over Numbers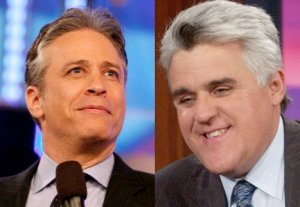 Late last week, second quarter ratings for late night comedy programs were released, and one big ratings changeup has been getting lots of media attention. The Daily Show with Jon Stewart, despite being on a cable network, received more viewers within the 18-49 demographic in the second quarter than The Tonight Show with Jay Leno. Stewart's program was watched by 1.295 million viewers in the demo, while Leno only received 1.292 million.
The number is significant because it marks the first time in a decade that The Tonight Show did not place first in the 18-49 demo in any quarter. So naturally, NBC has gone on the defensive, pointing out the differences between the two channels:
According to an NBC spokesperson, Comedy Central only counts ratings numbers for new episodes, but not for reruns, which NBC argues would give them the edge.
Because Leno's show runs twice as long as Stewart's, for a fairer comparison they should compare the Daily Show numbers to the numbers Leno gets in only the first half-hour of his show.
In response, a spokesperson for Comedy Central issued the following statement:
Broadcast traditionally has always included original plays and encores but like a lot of things they do, we believe that to be an archaic way of measuring performance. To each their own.
Whatever the case may be, there is no question that Stewart's program has been attracting a lot more viewers over the last few years, scoring impressive numbers for a basic-cable show. And his recent Fox News feud has certainly garnered him a lot of mainstream media attention and publicity. Meanwhile, Leno hasn't been in the headlines since last year's late night kerfuffle.
h/t EW
Have a tip we should know? tips@mediaite.com
Josh Feldman - Senior Editor