Stewart Trashes NRA's Wayne LaPierre And Female Gun Advocate Over Senate Testimony
Stewart Trashes Wayne LaPierre And Female Gun Advocate Over Senate Testimony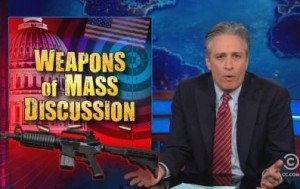 Jon Stewart took on Wednesday's Congressional hearings on gun control, and in particular, the testimony of NRA executive vice president Wayne LaPierre. Not only did LaPierre appear to contradict his own message about the dangers of government fascism, but Stewart highlighted how LaPierre actually contradicted his own past beliefs on universal background checks.
LaPierre affirmed that we have gun laws to defend against tyranny (or "democratic decisions they don't agree with," as Stewart put it), only to also add that people fear being abandoned by their government. Stewart was baffled by the apparent contradiction, asking how LaPierre thinks people need guns to protect people from a government heading towards "both fascism and impotence."
Stewart acknowledged legitimate points made about the arbitrary nature of some gun control proposals, until he got to Senator Chuck Grassley's argument that "unlike a deer," attackers shoot back. Stewart mocked Grassley with a fake movie poster for Bambo, with a deer as Sylvester Stallone.
And as for the argument made by Gayle Trotter at the hearing about why AR-15s are important for women to own, Stewart remarked that it was the "worst J-date profile entry ever." But what astonished Stewart is that in the midst of her big anecdote about a woman defending herself, she couldn't even remember the type of gun being used.
But getting back to LaPierre, Stewart derided his claim that criminals will not just obey universal background checks, mocking suggesting that we should all just pass laws that "criminals will immediately obey." Stewart ran footage of LaPierre in 1999 testifying before Congress… actually saying the exact opposite on background checks.
Watch the video below in two parts, courtesy of Comedy Central:
Part two:
—–
Follow Josh Feldman on Twitter: @feldmaniac
Have a tip we should know? [email protected]
Josh Feldman - Senior Editor