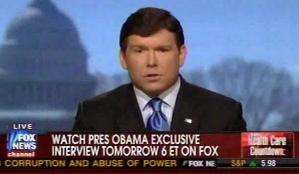 Fox News had their best year of all time in 2009. Now that we've finished the first quarter of 2010, it's clear FNC is showing no signs of letting up – they just finished their best quarter ever, in total day total viewers.
It was also the second highest rated quarter ever in prime time total viewers. More details and analysis after the jump.
While Fox News continues to see record ratings, their cable news competitors are dropping off even more year-to-year. In the A25-54 demographic during prime time, FNC was up 16%, while CNN dropped 42%, MSNBC was down 22% and HLN was down 40%. In total viewers prime time, FNC was up 3% while the rest declined as well (CNN – 39%, MSNBC – 15%, HLN – 24%).
We're now one month away from Fox News becoming the #1 cable news channel for the 100th consecutive month based on total viewers, and this quarter FNC expanded its reach into the cable market as a whole – finishing 2nd in prime time on all of cable, behind just USA Network. It also had the top 13 programs on cable news in both total viewers and the demo.
As for the programs, their two main news shows saw their best quarters ever. Special Report with Bret Baier and FOX Report with Shepard Smith at 6 and 7pmET respectively. Of course, the entire line-up was up – in demo, Glenn Beck was up the most (50%).
While CNN continues to decline in prime time (as detailed today in the New York Times) and MSNBC's signature programs fall off as well (post coming), Fox News remains unaffected. In fact, with health care passing, there's no reason to doubt the second quarter of 2010 will be any different. With midterm elections just around the corner, Fox News could conceivably be headed for another year of stronger ratings than the one before.
Whether you're a fan of the 'fair and balanced' or not, it's an amazing feat.
—–
» Follow Steve Krakauer on Twitter
Have a tip we should know? tips@mediaite.com