'Stop It! You're Putting Words In My Mouth!' Megyn Kelly Battles Dem Rep Over IRS 'Political Theater' Comment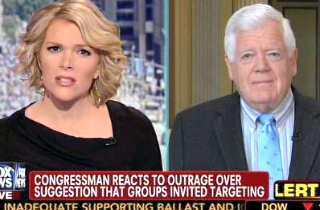 On America Live this afternoon, Megyn Kelly confronted Rep. Jim McDermott (D-WA) over his controversial "political theater" remarks made during Tuesday's House committee hearing on the Internal Revenue Service's targeting of conservative groups for additional tax scrutiny. Things got a bit tense, to say the least.
Kelly reiterated Rep. Paul Ryan's claim that McDermott was "blaming the victims" when he suggested the conservative organizations should have expected tough scrutiny when they applied for tax-exempt status. She then asked the Democratic congressman if he "understands that criticism."
"Anybody who made that criticism didn't listen to my whole speech," he replied, insisting that Kelly and his critics had been focused on one line from his five minute speech. He noted that he repeatedly condemned the actions of the IRS, but his main point was: "Once you ask for [tax-exempt status], you open yourself up to being questioned. I think that we want the questions to be on both sides. The only group that lost and told they couldn't have a exemption was a liberal group."
"Who cares?" Kelly pushed back. "If you are stuck with three years of no answer that is a denial."
"They can still operate. They can still collect money. They can put out advertisements and use their First Amendment right," the congressman replied. "Nobody in the IRS stopped them from doing that."
On the contrary, Kelly asserted, citing one of the conservative group's claims that they lost a $30,000 donation because of their status limbo. "That was not under testimony or under oath," McDermott dismissed.
"He was lying," the Fox host asked, "is this your answer to that?"
"Miss Kelly, you are putting words in my mouth," he answered. "You are putting words in my mouth. Stop it."
Later on during the segment, Kelly suggested to McDermott that "You seem to put the burden on honest American citizens who are applied for the status."
"You are wrong," he flatly responded. "I am not putting the burden on them. I am explaining the process. If you ask for tax exemption, you have to be prepared for justify."
When McDermott asserted that he is actually "on their side," an incredulous Kelly quoted the congressman's remarks from the day before and asked: "Why is it their obligation to come before the House Ways and Means after a flight from Iowa and 3 years of dealing with the harassing IRS to educate you, sir, or the IRS, on exactly what questions are appropriate and which ones are not?"
"That was a rhetorical question to the committee and the chairman," McDermott said.
"You did not phrase it as a rhetorical to the Republicans," she fired back. The two then spoke over one another for a good ten seconds, with a frustrated McDermott saying, "If you can't understand somebody asking a rhetorical question, you are… I don't know."
"It certainly sounded like a direct question to the good men and women who took time out of their day," Kelly concluded.
"That's how you heard it!" the congressman shot back before the segment came to a close.
Watch the full segment below, via Fox:
— —
>> Follow Andrew Kirell (@AndrewKirell) on Twitter
Have a tip we should know? tips@mediaite.com