'Stop Kidding Yourself' Mr. President: Matthews Defends MSNBC, Tells Obama The Gun Debate Is 'Partisan As Hell'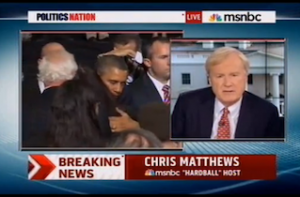 MSNBC's Chris Matthews and Al Sharpton came together directly following President Obama's speech on gun control in Hartford, Connecticut Monday evening to share their highly-charged reactions. While Matthews agreed with much of what the president said, he took offense at Obama's notions that cable news is disrupting the debate and that at its heart the fight over guns in not a "political" one.
During his speech in front of several thousand supporters at the University of Connecticut's basketball arena, President Obama said, "Sometimes when you watch cable news or talk radio or you browse the internet, you'd think, 'man, everybody just hates each other. Everybody is at each other's throats.'" He added, "But, that's not how most Americas think about these issues. There are good people on both sides of every issue. So if we're going to move forward, we can't just talk past one another. We've got to listen to one another."
Later in the speech, the president made the point that "this is not about me. This is not about politics. This is about doing the right thing for all the families who are here that have been torn apart by gun violence."
After commending President Obama for his fiery rallying cry for the cause of gun control, Matthews responded directly to both of the specific comments above. "I'm going to defend our world here on what he calls 'cable TV'," Matthews said. "I think MSNBC and you and I and a bunch of other people on this network have been keeping up the fight for gun safety" since Newtown, "not just a few times but consistently every night." Matthews seemed to be saying that if Obama is going to go after cable news, he should exempt the cable news network that has been arguing his side of this debate.
Matthews went on, saying of Obama, "he calls it not being political. But look who his enemies are. They are all Republicans. You gotta stop kidding yourself here," he said directly to the president. "It's a partisan opposition to gun safety. It's partisan and that's the problem. When you have a whole political party run by Mitch McConnell saying 'no vote,' that's serious business and it's partisan as hell."
"And we're not engaging in Americans hating each other," Sharpton chimed in, "we're talking about people loving each other. And if you love children, you want to see gun safety. When they're talking about cable, they're not talking about 'able cable.' That's what you and I do."
Matthews agreed with Sharpton's assessment, saying "I would think that would be a good way to look at it, sir."
Watch video below, via MSNBC:
—
>> Follow Matt Wilstein (@TheMattWilstein) on Twitter
Have a tip we should know? tips@mediaite.com