Stossel Admits To O'Reilly He's Okay With NSA Snooping: Libertarians Calling Me 'Traitor'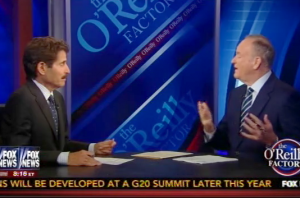 Libertarian pundit John Stossel admitted to Bill O'Reilly tonight that he can't join in the libertarian outrage over the NSA surveilling Americans' private communications because it just doesn't bother him that much. He argued that privacy is already being violated en masse by large companies like Google and Facebook. O'Reilly challenged him, saying that there should be cause for concern due to potential government abuse like in the case of the IRS.
Stossel told O'Reilly, "My privacy is already blown… Amazon knows, Facebook knows all kinds of things about me." O'Reilly admitted he's confused by all this tech stuff, saying that while he can understand websites like his own being able to track who pops on and goes to certain pages, he can't imagine how these sites are tracking all sorts of user information.
RELATED: O'Reilly Reins In GOP Strategist On NSA: 'Not Just Obama Admin., You Can't Trust Any Government Agency'
Stossel shrugged his shoulders and said it could happen, but ultimately, "I figure everything is out there, I try not to have secrets." He did admit there is a difference between companies monitoring user data and nations monitoring the people's data, because "Google and Facebook… can't lock me up or kill me."
O'Reillly shot back that there is strong potential for abuse if someone involved in the surveillance leaks information through improper and illegal channels. Stossel acknowledged his position has put him at odds with his fellow libertarians, saying "I've been called a traitor to the libertarian cause." He concluded by the segment by saying it should be an outrage that four million people are given the security clearance to see these programs in action.
Watch the video below, courtesy of Fox News:
—–
Follow Josh Feldman on Twitter: @feldmaniac
Have a tip we should know? [email protected]
---
Josh Feldman - Senior Editor