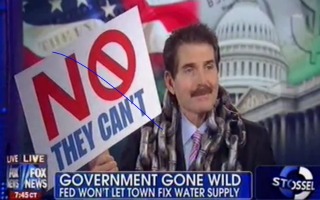 On Thursday, Fox Business Network Host John Stossel appeared on Fox & Friends dressed in prop chains to illustrate what he says would be the result if America remains on its "new road to serfdom" – which is also the title of his upcoming special. "As government gets bigger we get smaller," said Stossel. "We become serfs."

RELATED: John Stossel: Americans With Disabilities Act Makes Disabled Workers 'A Threat' To Employers
Stossel played a clip from his latest special in which he showcases several vacant office buildings that the government pays for.
"We are on the road to serfdom; as government gets bigger we get smaller –we become serfs," said Stossel. His upcoming special is called "road to serfdom part 2" and based on the title of the famous book by economist Friedrich Hayek.
Fox posted a graphic based on data from the Congressional Research Service which claims the federal government owns 27.7 percent of the nation's land, including 81.1 percent of Nevada, 66.5 percent of Utah, 61.8 percent of Alaska, 61.7 percent of Idaho and 53 percent of Oregon.
"They don't want to give anything back, and they own about half the West," said Stossel. He recounted a tale from Tombstone, Arizona where, after a storm, locals had to repair a nearby water source that had been damaged. However, the federal government forced the locals to use hand tools and horses rather than machine tools to protect local wildlife.
Co-host Steve Doocy said that the federal government has to institute rules for places they own in order to amass more power. Stossel agreed, and added "that's why I'm embarrassing myself going around the country with this sign saying 'no' they don't make life better." Stossel then produced a sign with the title of his latest book, "No, They Can't."
"There are only two ways to do things in life; forced or voluntary," said Stossel. "Government is force, all government. And we need some limited government."
Stossel said he was disappointed in former Massachusetts Gov. Mitt Romney's latest statement that he was against medical marijuana, indicating to Stossel that the former governor is not as for limited government as the host had hoped.
Watch the segment below via Fox News Channel:
Have a tip we should know? tips@mediaite.com