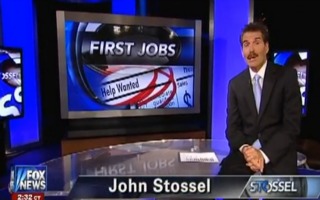 Fox Business Network's John Stossel broadcast interviews with many of Fox News' personalities and contributors talking about their first jobs. Below is a list of each Fox News personality discussing their childhood occupations.

RELATED: Stossel Interviews FNC Primetime Hosts About First Jobs To Show Young People They Should Aim Lower
Geraldo Rivera: "Long Island Press delivery boy."
Anna Kooiman: "Newspaper girl."
Karl Rove: "I was delivering papers when I was 11 or 12."
Lou Dobbs: "My job was to clean up the parking lot of the Dairy Queen."
Sean Hannity: "I was washing dishes Friday, Saturday and Sunday."
Glenn Beck: "I was 8-years-old – I worked at my father's bakery. I washed the pots and pans, I cleaned the floors. I don't even think I got paid."
Andrea Tantaros: "My job was working at my family's restaurant at a very young age. They started me at 8-years-old cleaning the tables and then I was promoted to hostess and then promoted to waitress."
Sarah Palin: "[I was] going around town, asking business owners if they would pay me to sweep their sidewalks and their parking lots."
Jon Scott: "My first job was mowing lawns at the University of Denver for the princely sum of $1.15 an hour."
Greta Van Susteren: My first job was in the back room of a dairy in Appleton, Wisconsin. And I had the job of getting all the coins from the cash register and putting all the pennies in those paper rolls."
Bill Hemmer: "Working school nights till 2 a.m. And my mom would pick me up at two in the morning and she was raising five kids – not just me. And, the third night this happened she said, 'Billy, you need to find another job."
Shannon Bream: "I had a little scraper tool and I had to go around to every pane of glass after they were painted and scrape off any glue, any paint that was left on there.
Charles Payne: "[Working in a store in Harlem, New York] you did the store, you did the register, but I was in a location where you had to also be a security guard as well."
Bob Beckel: "I was a garbage man."
Mike Huckabee: "I can't believe that they gave me the key to a radio station and let me open up, sign it on on the air and, you know, do everything from news to sports to disk jockey."
Charles Krauthammer: "First job I had was between the ages of 16 and 20, when I worked the summers as a sailing instructor at a day camp. What it taught me was when you are doing a job that you would do for nothing, will actually pay you. And when they're offering it, don't object."
Stuart Varney: "[Working in a double decker bus in London] taught me a lot. How do you work with drunks? I learned how to do that."
Nick Gillespie: "I worked as a page in my hometown library in Middletown, New Jersey."
Shepard Smith: "I was 13-years-old and I went to work at Tyson's Drug Store, and you're not supposed to drive at 13 – you may have heard about that. But at the time – at 14-and-a half in Mississippi – you could get your driver's license."
Watch the segment below via Fox News Channel:
> >Follow Noah Rothman (@Noah_C_Rothman) on Twitter
Have a tip we should know? tips@mediaite.com